Running Crazy were delighted to be invited by the organisers of this race to visit Riga and see just what this great city has to offer, including a great Marathon, Half Marathon, 10K and 5K races. With low cost airlines and scheduled airlines making this a popular city destination, we are confident that runners from all over will flock to this event.
The Weekend:
Riga, the capital city of the Baltic State of Latvia, is a great destination for a weekend city run. With low cost airlines like Ryanair using it as a destination, flying here could not be easier or cheaper. The 'Old Town' of Riga is a world heritage site and there are photo opportunities at every turn. Cobbled streets, wooden buildings and some fascinating architecture make this a city well worth exploring. Being compact you can easily see it all on foot too. The Latvians are known as the 'singing nation' and we can assure you that they know how to party too! This is party town in this part of the world!
What is included:
• Met at Riga Airport by Running Crazy staff
• Return Transfer/guided transfer to hotel
• A good class hotel on Bed and Breakfast basis
• Hotel conveniently located for the race Start and Finish (just 200 metres away)
• Guaranteed Race Entry
• Race Number/Timing Chip/Goody bag collection
• Reception Meeting/Course briefing/Number delivery
• Medal and 'T-Shirt'
• Full Results Service by E-Mail
• Great 'Running Crazy' After Race get together and party
• 'Running Crazy' Weekend guide and City Map
• Optional CD Rom
• Race Support
• Spectator Support
• Services of a Running Crazy representative
The Race:
The Riga Race Organisers offer a full Marathon, a Half marathon, a 10K and a 5K. The course is relatively flat and takes in parts of the old town as well as crossing the river by the suspension bridge. The Marathon is a lapped circuit and 1 ½ laps for the Half Marathon.

Time limits are:
Marathon - 6 Hours; Half Marathon - 3 hours;
10K - 90 minutess; 5K - 45 minutes
Map of Course:
- see bottom of page -
Spectators and Supporters:
We know how important spectators and supporters are at these events. We provide a supporters package at no extra charge. We will advise where on the course are the most advantageous spectator positions, and how to get there easily and in time for the race. More often than not we will take you there and join you for a cup of coffee and have a few surprises planned whilst awaiting the first sight of the runners! All our hotels are comfortably furnished with TV and entertainment facilities - many have spas, pools and saunas too
Charity Runners:
'Running Crazy' are delighted to welcome runners who are raising sponsorship for registered charities. We know that the great feeling of accomplishment when completing the race, feels even better when you are helping others in to the bargain! See our Run for Charity link to choose a charity that you can help. Many charities listed there will provide special runners packs including sponsorship forms and tips, and also charity running vests. Just contact them with your details and tell them you intend to run with 'Running Crazy' on their behalf. In addition we will provide you with a 'Running Crazy' Certificate confirming your achievement and result, and also a special commemorative prize. Just specify the charity name in your 'Application'.
Accommodation:
'Running Crazy' have secured good 3 * Hotel accommodation on a bed and breakfast basis at a hotel just 200 metres from the race start and finish area. This is ideal for kit storage, changing, showering and the all important pre-race preparations! In addition the hotel is just a short bus ride/tram ride in to the heart of the Old Town for your sightseeing days. The Bus Stop is right outside the Hotel front door. You could walk to the centre of town in just 15 minutes. There are nearby parks for training runs too! Lunch and evening meals are available at the hotel at great prices - good quality too.
The Weather:
Riga being in Eastern Europe has a continental climate, but being on the coast the temperatures remain mild. This is a good time of year for a race here. In May the average air temperature is between 13-17 degrees celsius. The probability of rain in May is low and on average there are 28-29 sunny days
Entertainment:
Riga is a great friendly town, and there is a lot to do here over the course of a weekend. There are many bars, cafes, and restaurants throughout the charming old town and beyond. There are bargains to be had in the shops, parks to laze about in, and pleasant coffee shops to just sit and watch the world go by. You could hire a boat in the park, visit the commercial docks and see the ferries to Stockholm and Tallinn. Our After Race gathering in an Irish Pub in the Old Town to discuss your race is always good fun, and then we will let our hair down in a small club that we know. Riga will have plenty for you to do.
Groups:
Travelling as part of a group is always more sociable and often more fun too. Speak to your friends and running colleagues and get a group together. There is a special prize given to groups of just 10 (you choose who receives it), and there are special discounts for groups of over 20.
Prices
Our all inclusive prices are extremely competitive - from as little as just £149 for the weekend - we know we cannot be beaten on price - and our runners continually tell us that they receive so much more on a 'Running Crazy' weekend break. All our 'resort races' offer half board accommodation, and for our 'Big City' races we know all the best value places to eat, drink and have fun. Indeed we book these for our pre-race and after race gatherings, meaning groups and individuals can just sit back, relax, make new running pals and let us do any worrying. No tourist traps for our clients! We know these races and places inside out, and will advise on what to see and do over the weekend, provide directions and maps - all very useful when on a tight timescale. All you have to do is run!
Closing Date
6 weeks before the event, or sooner if "Sold Out" applied to Index page.
What to do next?:
If you feel that a run and weekend break in Riga is just what you need, then please complete the Application Form with your details. We will send an E-Mail by return with further information in an attachment.

|
Map of Course: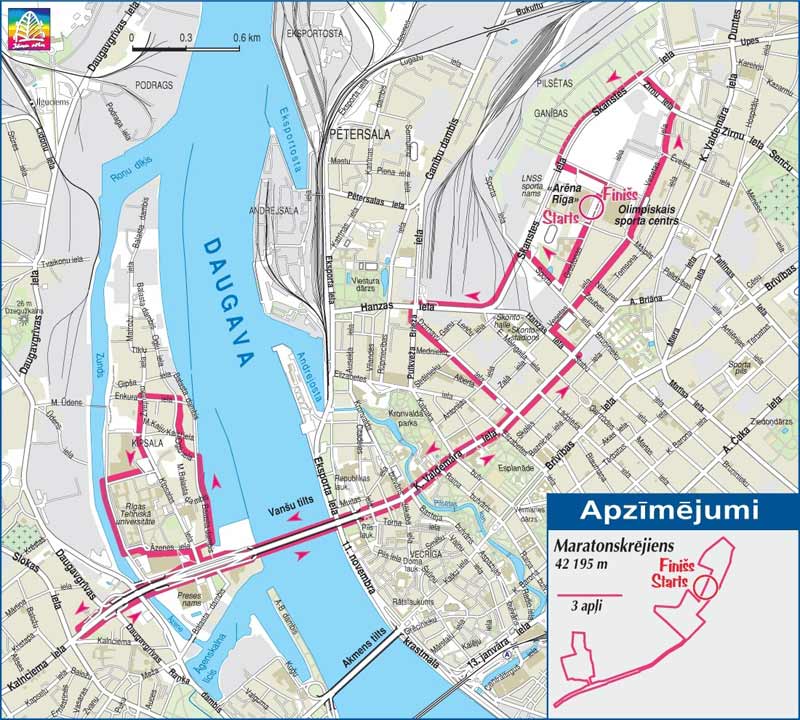 Tom - Billericay, Essex
My wife, son & I had a great weekend in Riga with Malcolm & the running crazy group. Malcolm did a great job as tour leader & I have recommended Running Crazy to my running club, The Billericay Striders. Photographs and a certificate posted to my home within a week were a lovely gesture. Thanks Malcolm & hope to join you again in the near future.

Katie Brown - Leeds
Thank you Malcolm for a wonderful weekend.
This was my first trip with Running Crazy and it definitely won't be my last. Excellent choice of location (Riga), fantastic organisation (including a very well placed hotel). Looking forward to the next time (and the subsequent post race parties).

Tim Cook - Werrington Joggers, Peterborough
On behalf of the 18 from Werrington Joggers thank you to Malcolm and David for a great weekend in Riga. Everyone thoroughly enjoyed it, ran some brilliant times on a superfast course and are already talking about 'Where next?' Thanks for organising everything and making sure it all 'ran' so smoothly.

Michon Halladay - Brussels, Belgium (originally USA)
I loved the entire Riga, Latvia weekend! I can't wait to do it again! I did even better than I thought on my first ever Half Marathon. I came out of this with such a feeling of accomplishment and pride. I can't even describe to you how much this has changed me. Everyone was wonderful, full of energy and so supportive. The good mood was absolutely contagious. I will see you again soon. Thank you for everything!

Deryck Hutchinson - Carlisle, Cumbria
Many thanks for a fantastic time with you and everyone else in Riga. I must honestly say having travelled with all the other various Running Tour Companies over the years (I have run over 150 Marathons and nearly 300 Half Marathons), that 'Running Crazy Ltd' is by far the best! The race was very well organised and you made the time for me and everyone else on the trip so much better and enjoyable. I will certainly be travelling with you again.

Gerry Hogg - Taunton, Somerset
Thanks for the Riga weekend. I really enjoyed myself even though I had to pull out at 14 Miles. I am not too despondent though, as a multiple Marathoner I live to fight another day! It was nice to have others picking my brains and asking for advice. I hope to do Riga again in 2011, and now look forward to Amsterdam with you in October. Keep in touch and thanks again.

John and Tracy Francksen - Charfield, South Glos.
Thank you Malcolm for a very enjoyable weekend in Riga. It was our first experience of a 'Running Crazy' trip abroad and I am sure it won't be our last! Thanks again for a great time.

John Richmond & Eli Scott - Werrington Joggers
What a great show in Riga! Eli and I were very happy with all aspects of our trip. Your service is very personal and much appreciated including your meet and greet service at the airport, your availability on hand to sort out any queries during the trip, your support during the event which was encouraging, and your informal photo service with some splendid shots. We will definitely plan further running trips with Running Crazy in the future and make similar mention of your service to our friends.

Letitia Moffitt - Chicago, USA
The Riga weekend was a LOT of fun, totally worth travelling the 20+ hours for me to get there. Thanks for another great time.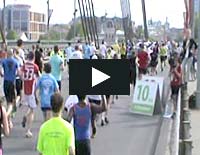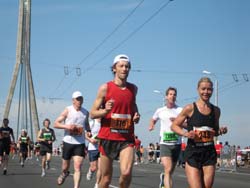 Click image above to see
latest video