The Weekend:
Toronto, Canada is a perfect venue for a Marathon and a Half Marathon. A great North American City with an enthusiastic population, the race takes place at a time of year when the climate is perfect for running, and you may be surprised to find return flights at less than £250!
You could also make it a great double-weekend by joning us the following week for the Niagara Falls Marathon, Half-Marathon, 10K and 5K.
What is included:
Met at Toronto's Pearson International Airport by 'Running Crazy' staff
Transfer and return to/from Hotel/Airport
Hotel Accommodation on Room only basis (at award winning hotel)
Discounted Race Entry
Reception Meeting/Map of City/Explanation of Course
Race Number/Chip and goody bag delivered
Early Morning Call on Race Day
After Race Get together
Full Results by E-Mail
Optional Sightseeing Tours
Optional CD-Rom/DVD Souvenir of race (with you in action)
The Race:
Toronto on the shores of Lake Ontario is a wonderful City and great for running. Wide boulevard roads with high sided buildings, and provided it is a nice calm day there may be a chance of a PB here. If times do not bother you, then you have got some great scenery to take in. You will be bussed out to the Start on Toronto's famous Yonge Street. It finishes Downtown near to your hotel. The sports minded enthusiastic population will cheer you on and there is some live entertainment on route. You will really feel a part of something here.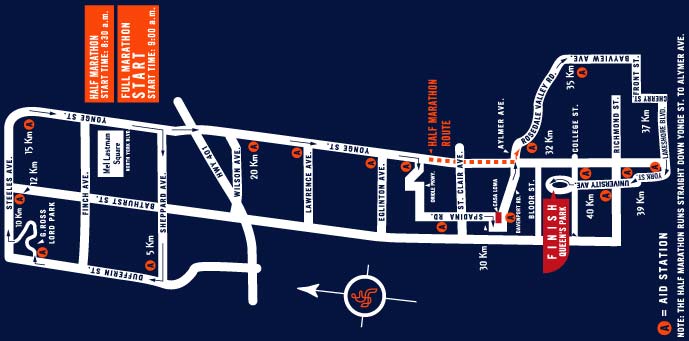 Accommodation: You will be staying in a 3* good class award winning hotel based in Downtown Toronto. It is close to the Finish area. The rooms are spacious with all the modern amenities you would expect in North America. There is an indoor swimming pool and fitness room.
The Weather:
October in Canada is probably the optimum weather for running. Mild and yet a good chance of being dry.
Average Sunshine Hours per day: 8
Wet days in a month: 7
Average Temperature: 8-15 degrees
Average Monthly Rainfall: 1"
Entertainment:
This is one of Canada's and North America's greatest Cities. There is plenty to see and do in this City. Once you have got the race out of the way why not visit the top of the CN Tower, Shop in the Eton Centre at an exchange rate that will make you smile (largest indoor shopping mall), walk around some of the 17 Kms of underground Malls, visit the Toronto Maple Leaf's Ice Hockey stadium, watch the Toronto Blue Jays Baseball team, visit a concert, the theatre, or take the ferry across to one of the islands for a completely different view of the City. Hire a bicycle and explore the island while you are here. There is so much to see.
Groups:
For Groups of 10 and over there is a prize for the first or last to finish. In addition for Groups of 20 or more there are special discounts available for the group leader.
Prices:
It really depends on whether you want the 5-day stay in Toronto only, or would like to take advantage of a 10-day joint stay in Toronto and Niagara. In both cases, prices include all transfers, including to/from Niagara and 3 days accommodation, and are based on a twin room basis. Prices also include race entry, number and goody bag delivery. Non-runners obviously pay less.
What to do next: If you are considering travelling with us to Toronto/Niagara Falls please complete and return the 'Application Form'. Please ensure you specify whether it is just Toronto only or Toronto/Niagara that you are interested in. More information will be sent by return of E-Mail including travel tips (including how to book cheap flights), a full price list and payment arrangements.