The Weekend:
Nice, on the Côte d'Azur, is the fifth largest city in France. There are some great running races in this area, and the Half Marathon in late Spring is always a favourite. Starting and finishing in Nice itself, this relatively flat and fast course hugs the coastline. You may be surprised to find yourself running along the 'Promenade des Anglais' on the seafront, looking up at the sunny, snow covered Alps inland. Quite a sight! We also feature the Nice Prom Classic 10K, usually the first Sunday of the year.
There are many airlines serving Nice from all over Europe. The airport is just a short distance (6K) from the town. Nice is well known as being home for the well heeled and those not short of a bob or two! The Tax havens of Monaco and Monte Carlo are just around the corner after all, not to mention San Marino across the Italian border. However if you know where to go you can eat, drink and party at affordable rates. We have done the research!
There are other well known tourist attractions and sights nearby too, like Cannes (film stars), Grasse (Perfume), St Tropez, Eze and Ventamiglia. We will show you how to do each for just Euros 1.50!
You may also like the idea of travelling on with us to Barcelona for their 10K race the following weekend. If this is of interest please annotate Nice/Barcelona on the Application.

What is included:
- Met at Nice International Airport
- Transfer and return from Airport
- Good class, conveniently located hotel
- Pasta meal night before (optional)
- Race entry
- Provision of wording for 'medical certificate'
- Reception Meeting/Map of area/Explanation of course
- T-Shirt
- Race support
- Spectator support
- After-race get together
- Optional sightseeing ideas (Monte Carlo, Cannes, or maybe Italy)
- Full Results service by E-Mail
- Optional DVD souvenir of you in race action
- Services of the 'Running Crazy' representative
The Race:
Pancake flat and an out and back course along the 'Promenade des Anglais' - the seafront road in Nice. 3 lanes wide both side of the carriageway. There are wave starts.
In France, to compete in running events you need a Doctor's Certificate confirming that you are fit enough to participate. We will provide the 'wording' in English and in French, for your doctor to sign.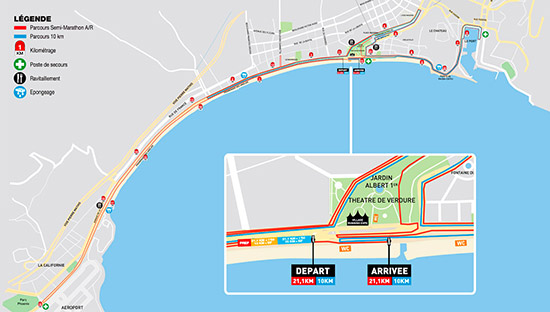 Spectators and Supporters:
We know how important spectators and supporters are at these events. We provide a supporters package at no extra charge. We will advise where on the course are the most advantageous spectator positions, and how to get there easily and in time for the race. More often than not we will take you there and join you for a cup of coffee and have a few surprises planned whilst awaiting the first sight of the runners! Our hotel is comfortably furnished with TV and entertainment facilities. There is an outdoor pool too.
Charity Runners:
'Running Crazy' are delighted to welcome runners who are raising sponsorship for registered charities. We know that the great feeling of accomplishment when completing the race feels even better when you are helping others in to the bargain! See our Run for Charity link to choose a charity that you can help. Many charities listed there will provide special runners packs including sponsorship forms and tips, and also charity running vests. Just contact them with your details and tell them you intend to run with 'Running Crazy' on their behalf. In addition we will provide you with a 'Running Crazy' Certificate confirming your achievement and result, and also a special commemorative prize. Just specify the charity name in your 'Application'.
Accommodation:
In Nice there are a wealth of hotels. We always choose a good quality hotel within easy reach of the race start and finish which is handy for changing and showers, kit security, and of course that all important last toilet visit. The hotel must also be convenient for airport transfers too.

The Weather:
Being on the Mediterranean the weather is generally good. Most people have heard of the Cote d'Azur - the French Riviera.

• Average Sunshine Hours per day: 7
• Wet days in a month: 5
• Ave Temperature: 7-15 degrees Celsius
Entertainment:
Nice has a lot to offer all year round. There is some superb shopping, wonderful parks, stunning views, the old harbour and fishing port, as well as the seafront promenade of course. There are masses of bars, cafes, bistros, restaurants, brasseries and pubs. Our hotel is well located for all. We know the places to go!Not only is there a lot to do in Nice but you can travel further afield and incredibly cheaply too. Monte Carlo for 1 Euro! Cannes for 1 Euro! Jump on the train to Ventimiglia in Italy. Or go that bit further to San Remo. We will give you suggestions and show you how to do it.
Groups:
Nice is a great venue for a group of runners. Lots of evening entertainment that is just crying out to be shared. There are discounts available for large groups (20+), but even a group of just 10 will qualify for an additional prize for the first or last to finish. If you have a group interested in joining us, just complete the Group Application Form and 'Running Crazy Ltd' will be in touch.
Prices
Our all inclusive prices are extremely competitive - from as little as just £149 for the weekend - we know we cannot be beaten on price - and our runners continually tell us that they receive so much more on a 'Running Crazy' weekend break. All our 'resort races' offer half board accommodation, and for our 'Big City' races we know all the best value places to eat, drink and have fun. Indeed we book these for our pre-race and after race gatherings, meaning groups and individuals can just sit back, relax, make new running pals and let us do any worrying. No tourist traps for our clients! We know these races and places inside out, and will advise on what to see and do over the weekend, provide directions and maps - all very useful when on a tight timescale. All you have to do is run!
Closing Date
6 weeks before the event, or sooner if "Sold Out" applied to Index page.
What to do next:
If you are interested in joining us in Nice, then simply complete and send the 'Application Form'. Further information will be sent by return.